new

1.4.0
Jun 4, 2023
1.3.0
May 28, 2023
tlrc
A tldr client written in Rust.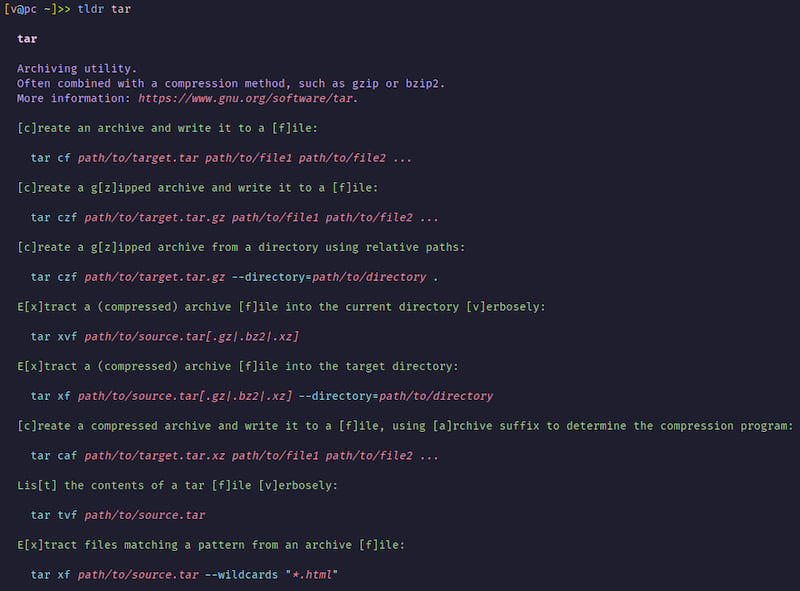 Installation
Arch Linux
Install tlrc (from source) or tlrc-bin (prebuilt) from the AUR.
From crates.io
To build tlrc from a source tarball, run:
cargo install tlrc

NOTE: shell completion files and the man page will not be installed that way.
From GitHub Releases
You can find prebuilt binaries here.
Usage
See man tldr or the online manpage. For a brief description, you can also run:
tldr --help

Configuration
Tlrc can be customized with a TOML configuration file. To get the default path for your system, run:
tldr --config-path

To generate a default config file, run:
tldr --gen-config > $(tldr --config-path)

or copy the below example.
Configuration options
[cache]
# Override the cache directory.
dir = "/path/to/cache"
# Automatically update the cache when it is if it is older than max_age hours.
auto_update = true
max_age = 336
# Specify a list of desired page languages. If it is empty, languages specified in
# the LANG and LANGUAGE environment variables are downloaded.
# English is implied and will always be downloaded.
# You can see a list of language codes here: https://github.com/tldr-pages/tldr
# Example: ["de", "pl"]
languages = []

[output]
# Show the command name in the page.
show_title = true
# Prefix descriptions of examples with hyphens.
show_hyphens = false
# Use a custom string instead of a hyphen.
example_prefix = "- "
# Strip empty lines from output.
compact = false
# Print pages in raw markdown.
raw_markdown = false

# Number of spaces to put before each line of the page.
[indent]
# Command name.
title = 2
# Command description.
description = 2
# Descriptions of examples.
bullet = 2
# Example command invocations.
example = 4

# Style for the title of the page (command name).
[style.title]
# Fixed colors:       "black", "red", "green", "yellow", "blue", "magenta", "cyan", "white", "default"
# 256color ANSI code: { color256 = 50 }
# RGB:                { rgb = [0, 255, 255] }
color = "magenta"
background = "default"
bold = true
underline = false
italic = false
dim = false
strikethrough = false

# Style for the description of the page.
[style.description]
color = "magenta"
background = "default"
bold = false
underline = false
italic = false
dim = false
strikethrough = false

# Style for descriptions of examples.
[style.bullet]
color = "green"
background = "default"
bold = false
underline = false
italic = false
dim = false
strikethrough = false

# Style for command examples.
[style.example]
color = "cyan"
background = "default"
bold = false
underline = false
italic = false
dim = false
strikethrough = false

# Style for URLs inside the description.
[style.url]
color = "red"
background = "default"
bold = false
underline = false
italic = true
dim = false
strikethrough = false

# Style for text surrounded by backticks (`).
[style.inline_code]
color = "yellow"
background = "default"
bold = false
underline = false
italic = true
dim = false
strikethrough = false

# Style for placeholders inside command examples.
[style.placeholder]
color = "red"
background = "default"
bold = false
underline = false
italic = true
dim = false
strikethrough = false

Dependencies
~10–17MB
~396K SLoC