new

0.0.12
Mar 29, 2023
0.0.11
Mar 26, 2023
Oatbar
It is a standalone desktop bar that can be used with various WMs and DEs. This bar aims to become one of the most full-featured bars available.
Flexibility and pluggability of information sources from existing ecosystems

Arbitrary scripts
i3blocks format
i3status format
PNG image embedding that could be rendered by a source script at runtime.

External plugins are preferred, but the most basic modules are embedded: EWHM, layouts, clock, etc.
Conversion of string sources to other types (numbers, bytes, percentages) that could be rendered by specialize widgets
Native Pango markup support
Source data cleaning via regexes so inflexible source module data can be cleaned inside of the oatbar.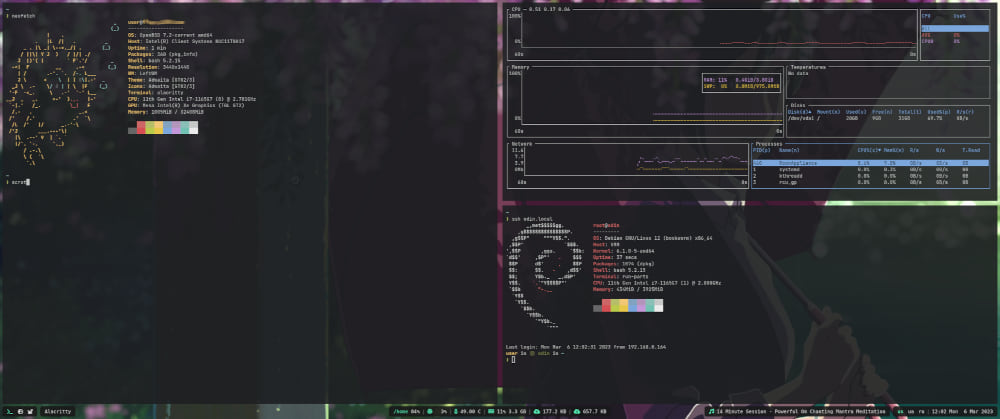 Installation
Pre-requisites
Please install cargo via the package manager or http://rustup.rs.
ArchLinux
# pacman -Sy pango cairo libxcb pkgconf

Ubuntu/Debian
# apt-get install -y build-essential pkg-config libcairo2-dev libpango1.0-dev libx11-xcb-dev

Install
$ cargo install oatbar

Configure
During the first launch the bar will create a default config at ~/.config/oatbar.toml that should work on most machines. The configuration format is not documented and can change at any time, but it can be reverse-engineered from src/config.rs. It will be documented when it becomes more or less stable.
Disclaimer
This is not an officially supported Google product.
Dependencies
~14–20MB
~411K SLoC