28 stable releases
| | |
| --- | --- |
| 1.8.0 | Nov 24, 2022 |
| 1.6.0 | Jul 5, 2022 |
| 1.5.3 | Mar 18, 2022 |
| 1.4.13 | Dec 25, 2021 |
| 0.0.0-canary | Oct 25, 2021 |
Odin
Odin is a CLI tool utilized for installing, starting, and stopping [Valheim] servers
Odin Specific Environment Variables
These are set automatically by Odin; you DO NOT need to set these and only mess with them if you Know what you are doing.
| Variable | Default | Required | Description |
| --- | --- | --- | --- |
| DEBUG_MODE | 0 | FALSE | Set to 1 if you want a noisy output and to see what Odin is doing. |
| ODIN_CONFIG_FILE | config.json | FALSE | This file stores start parameters to restart the instance, change if you run multiple container instances on the same host |
| ODIN_WORKING_DIR | $PWD | FALSE | Sets the directory you wish to run odin commands in and can be used to set where valheim is managed from. |
Gotchas
Odin relies on Rust. Please install Rust
Odin also assumes that you have SteamCMD already installed. Install instructions for SteamCMD.
If you have the proper build tools installed you should be able to run Odin on any system.
Current Supported Architecture: Unix & Linux based systems.
Setup
Make sure you have build essentials installed before you install this crate
Install Rust & git
Clone the repo
cargo install cargo-make
makers -e production release
chmod +x ./target/debug/odin
Copy ./target/debug/odin to /usr/local/bin
Usage
Install Valheim
odin install


Start Valheim
odin start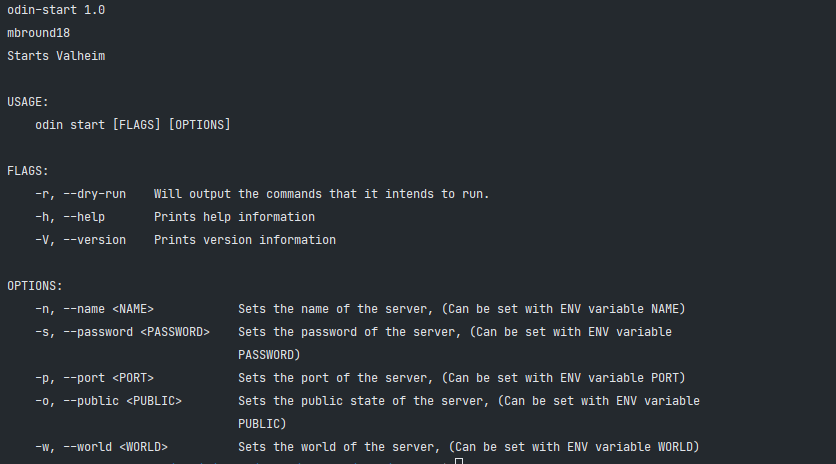 Stop Valheim
odin stop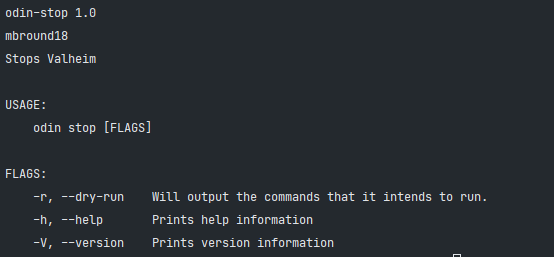 Status
Local Server
odin status

Remote Server
Replace the xx.xx.xx.xx with your server IP and query-port with the PORT variable +1 (ex: if 2456 use 2457 which is the steam query port.)
odin status --address "xx.xx.xx.xx:query-port"

Systemd service
With the root user or using sudo run

nano /etc/systemd/system/valheim.service


Copy and paste the text below

[Unit]
Description=Valheim Server
After=network.target
StartLimitIntervalSec=0

[Service]
Type=simple
Restart=always
RestartSec=1
User=steam
Environment="PORT=2456" 'NAME="Valheim Docker"' "WORLD=Dedicated" "PUBLIC=1" "PASSWORD=changeme"
WorkingDirectory=/home/steam/valheim
ExecStartPre=/usr/bin/env /usr/local/bin/odin configure
ExecStart=/usr/bin/env /usr/local/bin/odin start
ExecStop=/usr/bin/env /usr/local/bin/odin stop

[Install]
WantedBy=multi-user.target


Make any necessary changes to the service to fit your needs.

Next save the file and start the service.

sudo systemctl start valheim


To have the server start on server launch, run:

sudo systemctl enable valheim