| | |
| --- | --- |
| 0.8.2 | Jan 19, 2023 |
| 0.8.1 | Jul 22, 2022 |
| 0.8.0 | May 29, 2020 |
| 0.7.14 | Mar 13, 2020 |
| 0.6.1 | Jul 23, 2019 |
raqote
A pure Rust 2D Graphics Library.
Raqote is a small, simple, fast software 2D graphics library.
Current functionality
path filling
stroking
dashing
image, solid, and gradient fills
rectangular and path clipping
blend modes
layers
repeat modes for images
global alpha
Notable users
resvg supports using raqote as a backend.
Servo uses raqote as its canvas backend.
orbtk uses raqote.
Example:
A simple example drawing to a window
Another example drawing to a png follows:
use raqote::*;

let mut dt = DrawTarget::new(400, 400);

let mut pb = PathBuilder::new();
pb.move_to(100., 10.);
pb.cubic_to(150., 40., 175., 0., 200., 10.);
pb.quad_to(120., 100., 80., 200.);
pb.quad_to(150., 180., 300., 300.);
pb.close();
let path = pb.finish();

let gradient = Source::new_radial_gradient(
    Gradient {
        stops: vec![
            GradientStop {
                position: 0.2,
                color: Color::new(0xff, 0, 0xff, 0),
            },
            GradientStop {
                position: 0.8,
                color: Color::new(0xff, 0xff, 0xff, 0xff),
            },
            GradientStop {
                position: 1.,
                color: Color::new(0xff, 0xff, 0, 0xff),
            },
        ],
    },
    Point::new(150., 150.),
    128.,
    Spread::Pad,
);
dt.fill(&path, &gradient, &DrawOptions::new());

let mut pb = PathBuilder::new();
pb.move_to(100., 100.);
pb.line_to(300., 300.);
pb.line_to(200., 300.);
let path = pb.finish();

dt.stroke(
    &path,
    &Source::Solid(SolidSource {
        r: 0x0,
        g: 0x0,
        b: 0x80,
        a: 0x80,
    }),
    &StrokeStyle {
        cap: LineCap::Round,
        join: LineJoin::Round,
        width: 10.,
        miter_limit: 2.,
        dash_array: vec![10., 18.],
        dash_offset: 16.,
    },
    &DrawOptions::new()
);

dt.write_png("example.png");

Produces: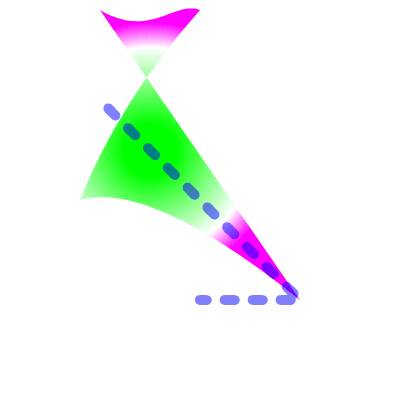 Dependencies
~2–3.5MB
~75K SLoC