| | |
| --- | --- |
| 0.1.1 | Jun 24, 2023 |
| 0.1.0 | Jun 24, 2023 |
Custom license and GPL-3.0 licenses
1MB
3K SLoC
Eloran
Comics and Ebook web library written in rust, with reading, search, reading status, bookmarks...
Intro
I used Ubooquity during a few years, but unfortunatly it is not opensource, and there is no read status, so I decided to find another solution.
I tried some alternatives :
So here I am, a personal project named after my childrens (Elora and Revan).
Feel free to use, improve, and cry to my low code quality !
use a sqlite database
store ebooks and comcis covers in database (~10ko per cover, almost 160 Mo for 15000 files)
multiple users, with bookmarks pages, reading status with page number (not for pdf)
periodic scan of libraries folders
no cached data, comics images are extracted on the fly
comics pages responsive size for optimized mobile network usage
small binary : 5 Mio, alpine based image : 13 Mio
small css, small compressed svg, no javascript
rust 🦀🚀
Screenshots
I know this is AWFUL 🤮, I have not worked on the css yet, please be patient (or help meeeee 🆘) !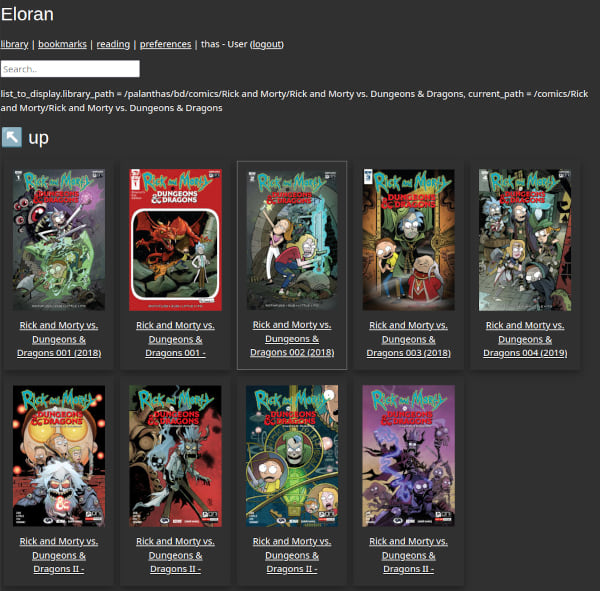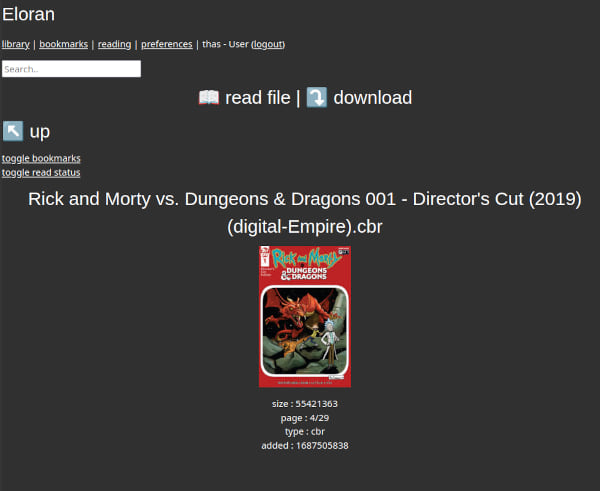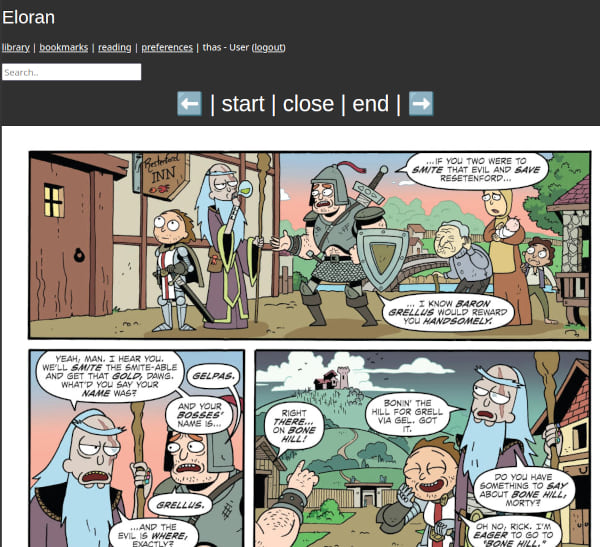 Installation
For now you need the css directory, so the simpliest way is to clone sources and build it with cargo, a usable binary and docker image will be available soon.
git clone https://github.com/thasos/eloran.git
cd eloran
just build
target/x86_64-unknown-linux-gnu/release/eloran

If you do note use just, use it 😁 or just launch cargo build --release
Build dependencies
Arch :
sudo pacman -S libarchive cairo poppler-glib
# if you want to package it in alpine image
sudo pacman -S musl

Debian/ubuntu :
sudo apt install libarchive-dev libcairo2-dev libpoppler-glib-dev
# if you want to package it in alpine image
sudo apt install musl-dev

Fedora :
sudo dnf install rust-glib-sys-devel.noarch
sudo dnf install rust-cairo-sys-rs0.16-devel.noarch
sudo dnf install cairo-gobject-devel.x86_64
sudo dnf install poppler-glib-devel.x86_64
sudo dnf install libarchive-devel.x86_64

TODO
store session in database (see fn create_router() in src/http_server.rs)
pretty error handling
more testing
allow relative path in library_path
fix element numbers for sub directories
handle cover.jpg files for directories (or use first file's cover ?)
customized css
upload files
install page at 1st start : admin password, library_path, new user...
share files (or directories, or page)
grid or list view in preferences
progress bar while reading, file info, and grid view
easy go to page number while reading and from file info
read pdf in new tab
display read status in bookmarks page
better css 🤪
true ebook reading
Dependencies
~79MB
~1.5M SLoC