| | |
| --- | --- |
| 2.4.8 | Jun 12, 2022 |
| 2.4.7 | May 27, 2022 |
| 2.4.4 | May 26, 2022 |
| 2.4.2 | May 5, 2022 |
Draconis
🪐 An out-of-this-world greeter for your terminal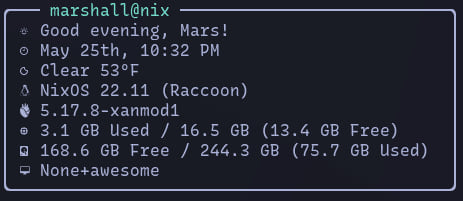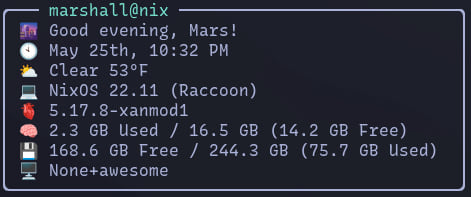 Requirements
pacman-contrib for pacman
Important
This program uses the openweathermap API for fetching the weather. You must have an API key from openweathermap if you want to use the weather function.
Update checking and package counting will take a long time, and slow down the program by quite a bit. This cannot be avoided because of the fact that these checks require external system commands. Only use these options if you don't mind losing a second or two of time every time you run the program.

NixOS does not support package update counting.
How to use
Grab the latest release binary and config files from the releases page
Copy example_config.toml to ~/.config/draconis/config.toml
Change the config to your liking
Add the program to your shell's startup
Dependencies
~18–52MB
~1M SLoC