| | |
| --- | --- |
| 0.3.1 | Nov 4, 2021 |
| 0.3.0 | Apr 14, 2021 |
| 0.2.0 | Apr 3, 2021 |
| 0.1.2 | Mar 13, 2021 |
arch-audit-gtk
Show an indicator if there are any security updates missing for your Arch Linux system.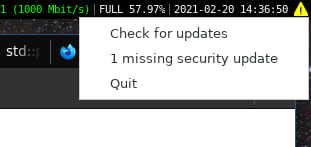 Install
pacman -S arch-audit-gtk

The package contains files for xdg-autostart, so it should automatically start the next time you log in. This is the case for gnome and kde, for i3 you need something like dex -a or execute arch-audit-gtk directly.
Gnome3
For gnome3 you need to install an extension for app indicator support:
pacman -S gnome-shell-extension-appindicator

After installing this extension you need to restart your desktop so gnome picks it up, you then need to enable the extension with the gnome extension manager.
Themes
There are currently 3 themes that you may pick from:
You can set this by creating a config file at one of the following locations:
/etc/arch-audit/gui.toml
~/.config/arch-audit/gui.toml
With the following content:
[design]
icon_theme = "nocolor"

You can also select a theme using the --icon-theme <theme> commandline option.
Privacy
Since this program is automatically pinging security.archlinux.org we attempt to use multiple techniques to increase privacy:
Tor support
You can configure arch-audit to connect through Tor or any other socks5 proxy. There are two advantages in doing this:
security.archlinux.org can't tell you apart from other arch-audit users using Tor.
If you're on a monitored network they can't tell that you're connecting to security.archlinux.org, also they can't interrupt that specific connection. They may be able to tell that you're connecting to Tor and may be able to interrupt your Tor connections though.
Configure arch-audit like this:
mkdir -vp ~/.config/arch-audit
cat > ~/.config/arch-audit/settings.toml <<EOF
[network]
proxy = "socks5://127.0.0.1:9050"
EOF

Random jitter
Even if the ip address is hidden, with a fixed update interval you'd need a very large set of people to make this reasonably anonymous. Instead we use a very large jitter and vary the update checks between 2-6h. Since this makes it virtually impossible to predict the next update check the server/network can't tell if a specific user is still there or went offline since the last check.
Update conditions
The complete list of conditions that cause a connection to security.archlinux.org:
Startup: On application start we do an initial check.
Timer: There's an automatic update interval of 2-6h.
Click: The user explicitly clicks on "Check for updates".
Pacman hook: If we already know we're missing security updates and pacman notifies us that any package has been updated or uninstalled we check if the vulnerable package is still present.
Development
pacman -S git rust arch-audit
git clone https://github.com/kpcyrd/arch-audit-gtk
cd arch-audit-gtk
cargo run

License
GPLv3+
Dependencies
~26–41MB
~787K SLoC