2 releases
✓ Uses Rust 2018 edition
| | |
| --- | --- |
| 0.1.1 | Mar 15, 2020 |
| 0.1.0 | Mar 9, 2020 |
Zee is a modern editor for the terminal (written in Rust). It is highly experimental code.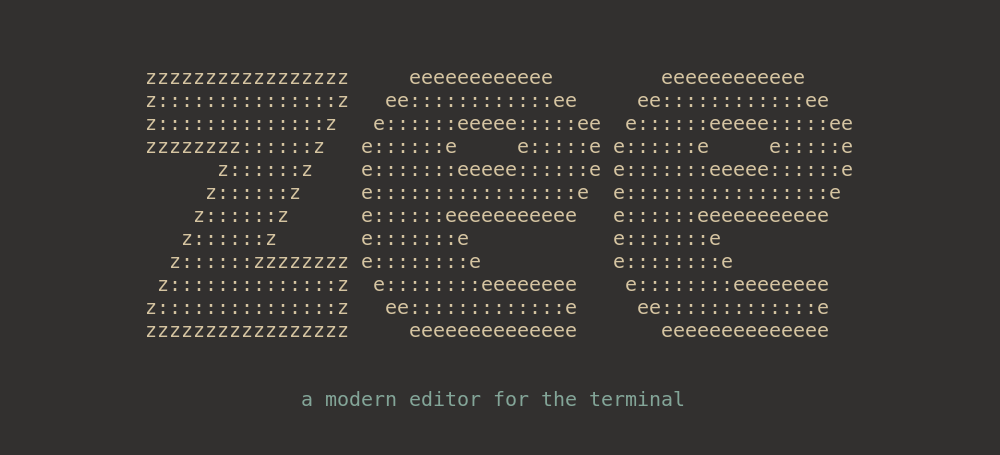 Here's what it looks like at the moment
Getting Started
The recommended way to install zee using cargo install
$ cargo install zee

Usage
To start the editor run zee. As expected, you can pass in one or multiple files to be opened, e.g. zee file1 file2.
Zee mostly uses emacs-y style bindings. Below, C- means Ctrl + the specified key, e.g. C-k is Ctrl-k. Similarly A- means Alt + the specified key.
The following keyboard bindings are available:
Movement
C-p, Up move up
C-n, Down move down
C-b, Left move backwards
C-f, Right move forwards
C-a, Home move to start of line
C-e, End move to end of line
C-v, PageDown move down one page
A-v, PageUp move up one page
A-< move to the beginning of the buffer
A-> move to the end of the buffer
C-l centre the cursor visually
Editing
C-d delete forwards
Backspace delete backwards
C-k delete the current line
C-SPC toggle selection mode
C-w cut selection
A-w copy selection
C-y paste (yank) selection
C-g clear the current selection
C-z, C-/ undo
C-x C-s save the current buffer
File Navigation
C-x C-f choose a file to open using a directory-level picker
C-x C-v search recursively for a file to open from the selected directory
C-l while opening a file, go to the parent directory
Tab while opening a file, fills in the currently selected path
C-g cancel the current operation
Global
C-x 0 close the current buffer
C-x o, C-x C-o switch focus to the next buffer
C-x C-c quit
C-t cycle through the available themes