| | |
| --- | --- |
| 0.4.18 | Mar 5, 2021 |
| 0.4.16 | Jan 29, 2021 |
| 0.4.9 | Dec 24, 2020 |
| 0.4.8 | Nov 25, 2020 |
| 0.2.16 | Nov 26, 2019 |
svlint
SystemVerilog linter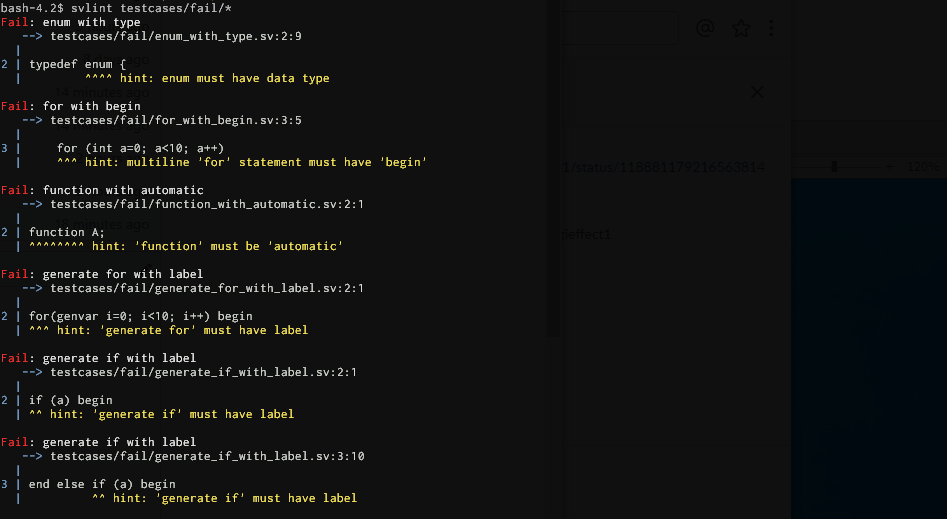 Installation
Download binary
Download from release page, and extract to the directory in PATH.
snapcraft
You can install from snapcraft
sudo snap install svlint

Cargo
You can install by cargo.
cargo install svlint

Usage
Configuration
First of all, you must put a configuration file .svlint.toml to specify enabled rules. Configuration file is searched to the upper directory until /. So you can put configuration file (.svlint.toml) on the repository root like .gitignore.
The example of configuration file is below:
[option]
exclude_paths = ["ip/.*"]

[rules]
non_ansi_module = true
wire_reg = true

The complete example can be generated by svlint --example
[option] section
exclude_paths is a list of regular expression. If a file path is matched with the list, the file is skipped to check.
[rules] section
By default, all rules are disabled. If you want to enable some rules, true can be specified.
Configuration update
If svlint is updated, .svlint.toml can be updated to the latest version by svlint --update.
Rules
All rules are here. Suggesting a new rule through Issues or Pull requests is welcome.
Plugin
svlint supports rule plugin. A sample project is below:
https://github.com/dalance/svlint-plugin-sample
Filelist
svlint supports filelist like major EDA tools. The following features are supported.
Substitute environment variables
Specify include directories by +incdir
Define Verilog define by +define
Include other filelists by -f
An example is below:
xxx.sv
${XXX_DIR}/yyy.sv
$(XXX_DIR)/zzz.sv
+incdir+$(PWD)/header/src
+define+SYNTHESIS
-f other.f

Option
svlint 0.2.12

USAGE:
    svlint [FLAGS] [OPTIONS] <files>...

FLAGS:
        --example    Prints config example
    -h, --help       Prints help information
    -s, --silent     Suppresses message
    -1               Prints results by single line
        --update     Updates config
    -V, --version    Prints version information
    -v, --verbose    Prints verbose message

OPTIONS:
    -c, --config <config>           Config file [default: .svlint.toml]
    -d, --define <defines>...       Define
    -f, --filelist <filelist>...    File list
    -i, --include <includes>...     Include path
    -p, --plugin <plugins>...       Plugin file

ARGS:
    <files>...    Source file

Dependencies
~8.5MB
~184K SLoC