| | |
| --- | --- |
| 2.8.2 | Oct 16, 2023 |
| 2.8.1 | Oct 9, 2023 |
| 2.8.0 | Aug 22, 2023 |
| 2.7.1 | Jul 16, 2023 |
dysk
A linux utility listing your filesystems.
Complete documentation lives at https://dystroy.org/dysk
dysk was previously known as lfs.
Default table

Custom choice of column


JSON output

You can output the table as CSV too.
Filters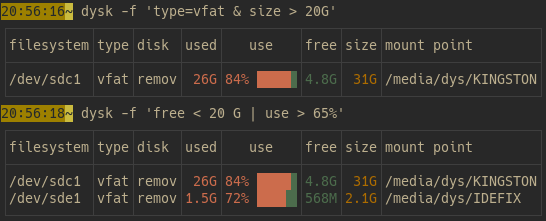 Sort

Library
The data displayed by dysk is provided by the lfs-core crate. You may use it in your own Rust application.
Dependencies
~6–16MB
~191K SLoC