| | |
| --- | --- |
| 1.2.5 | May 23, 2023 |
| 1.2.3 | Feb 28, 2023 |
| 1.1.0 | Oct 24, 2022 |
| 0.2.1 | Jun 12, 2022 |
| 0.1.7 | Feb 21, 2021 |
cotp - command line TOTP/HOTP authenticator
I believe that security is of paramount importance, especially in this digital world. I created cotp because I needed a minimalist, secure, desktop accessible software to manage my two-factor authentication codes.
Overview
Interface
cotp is written with simplicity in mind, the interface is quite minimalist and intuitive as command line apps should be.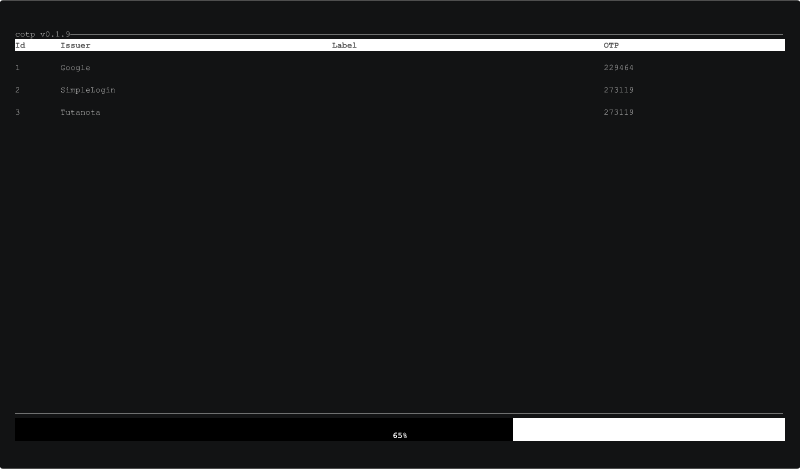 If you are familiar with the command line interface using cotp will not be a problem. Just type cotp to enter the TUI dashboard. Type i to get some instruction. Otherwise just enter cotp --help.
In the first run you will be prompted to insert a password to initialize the database.
Encryption
This program relies on only one database file encrypted with XChaCha20Poly1305 authenticated encryption and Argon2id for key derivation.
It also uses AES-GCM to import from encrypted Aegis backups.
Compatibility
cotp can generate both TOTP and HOTP codes, compliant with rfc6238 and rfc4226 specifications. Also, it is possible to customize settings like HMAC algorithm and digits, to provide compatibility to other two-factor authentication systems.
Latest releases also include support for Steam, Yandex, MOTP codes and code copying from SSH Remote Shell.
Cross Plaform
So far, I have successfully tested the functionality of the software in the following systems:
Arch Linux
Alpine Linux
Fedora 33
Ubuntu 20.04 WSL
Windows 10 Pro
Windows 10 LTSC
Windows 11
In addition, cotp has been successfully tested by the community in the following systems:
Install
See install.md
Migration from other apps
Planned features
Currently there is not any planned feature. If you need something new that could improve the software feel free to open an issue.
Contribution
I created this project for my own needs, but I would be happy if this little program is useful to someone else, and I gratefully accept any pull requests.
Dependencies
~9–14MB
~269K SLoC