| | |
| --- | --- |
| 0.1.4 | Jun 21, 2019 |
| 0.1.3 | Jun 17, 2019 |
| 0.1.2 | Jun 17, 2019 |
| 0.1.1 | Jun 17, 2019 |
| 0.1.0 | Jun 17, 2019 |
tock
A digital clock for the terminal, inspired by tty-clock. Unfortunately only works on UNIX systems due to the use of the termios and sigaction related function calls.
Note: emulating all features of tty-clock is not a goal of this project.
Features
Efficient bitmap and diff-based drawing
Timezone support via the TZ environment variable and tzselect utility
Military time and second display toggling
Color customization using ANSI, 8-bit, or 24-bit color values
Arbitrary date formatting
Positioned or centered clock
Adjustable display size
Synchronization with system clock seconds
Minimal syscalls (about one read, write, nanosleep per second)
Screenshots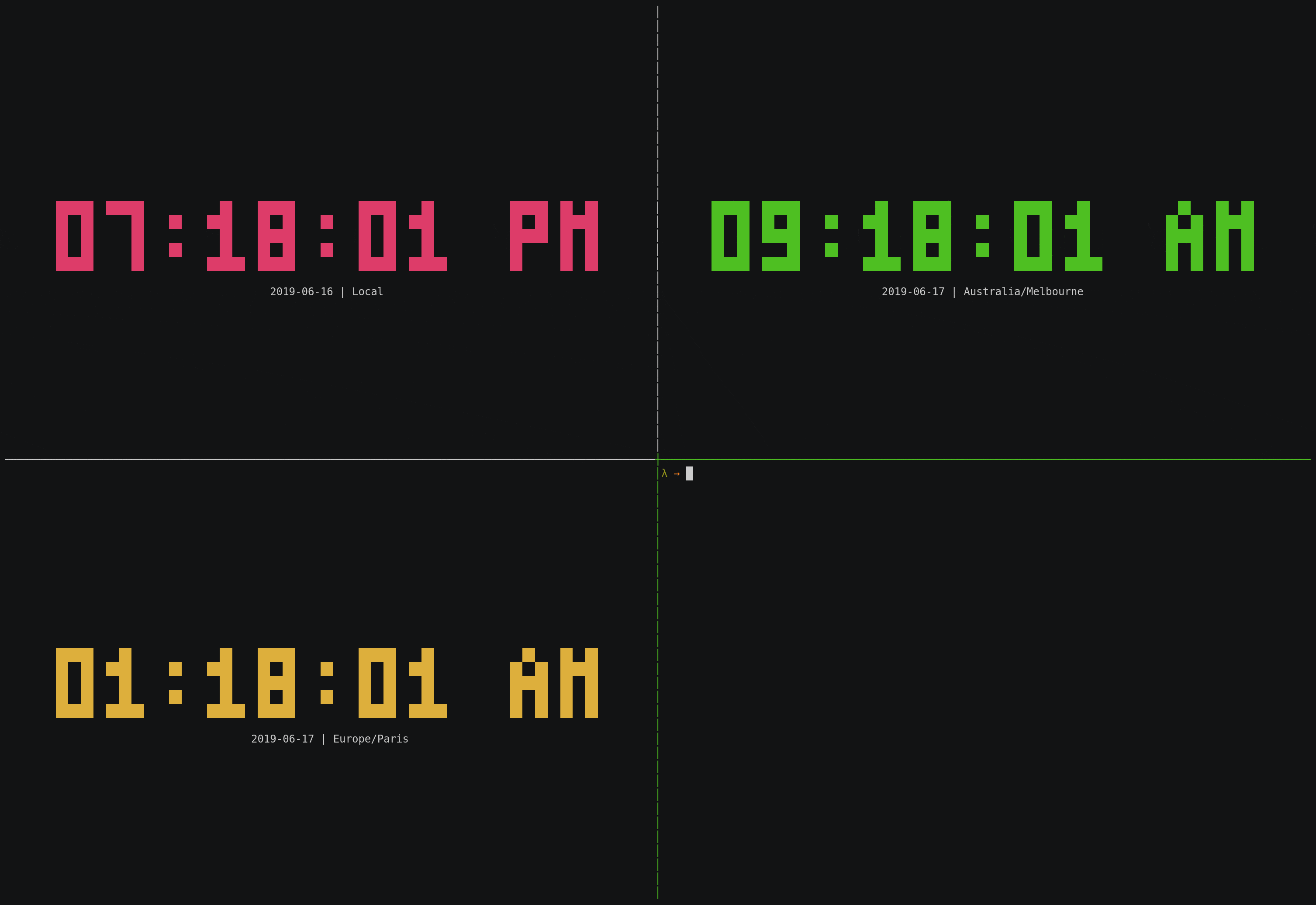 Installation
Currently requires a Rust installation, and is only available from either:
$ cargo install tock

Building from source
$ git clone https://github.com/nwtnni/tock.git
$ cargo build --release
$ ./target/release/tock

Usage
USAGE:
    tock [FLAGS] [OPTIONS]

FLAGS:
    -c, --center
            Center the clock in the terminal.
            Overrides manual positioning.

        --help
            Prints help information

    -m, --military
            Display military (24-hour) time.

    -s, --seconds
            Display seconds.

    -V, --version
            Prints version information


OPTIONS:
    -C, --color <color>
            Change the color of the time.

            Accepts either a [single 8-bit number][0] or
            three comma-separated 8-bit numbers in R,G,B format.
            Does not check if your terminal supports the
            entire range of 8-bit or 24-bit colors.

            [0]: https://en.wikipedia.org/wiki/ANSI_escape_code#8-bit

            [default: 2]

    -f, --format <format>
            Change the date format.

            Accepts a format string using [strftime][0] notation.
            Note that occurrences of the `%Z` specifier are
            naively replaced with the contents of the `TZ` environment
            variable, or the string "Local" if `TZ` is not set.

            [0]: https://docs.rs/chrono/0.4.6/chrono/format/strftime/index.html

            [default: %F | %Z]

    -h, --height <h>
            Font height in characters per tile. [default: 1]

    -w, --width <w>
            Font width in characters per tile. [default: 2]

    -x, --x <x>
            Horizontal 0-indexed position of top-left corner.

            [default: 1]

    -y, --y <y>

Currently compiles with the interactive feature flag set by default, which polls stdin for user input once per second. Available commands with this feature flag set are:
q or Q or <ESC>: Exit.
s: Toggle second display.
m: Toggle military (24H) time.
0..=7: Change to corresponding ANSI color.
Changelog
0.1.4

Refactor drawing algorithms for readability.
Fix comparison function for Date to avoid redrawing .

0.1.3

Draw clock to alternate screen buffer to avoid clearing user information. Thanks @Canop!

0.1.2

Fix README formatting (oops).

0.1.1

Implement support for date formatting strings via -f option.
Fix logic in Brush abstraction by only setting dried flag after writing.

0.1.0
References
Dependencies
~4MB
~74K SLoC