| | |
| --- | --- |
| 1.0.1 | Jun 12, 2021 |
| 1.0.0 | Apr 17, 2021 |
| 0.1.6-alpha.0 | Apr 17, 2021 |
| 0.1.3 | Mar 6, 2021 |
| 0.1.1 | Dec 28, 2020 |
#17 in Games
46 downloads per month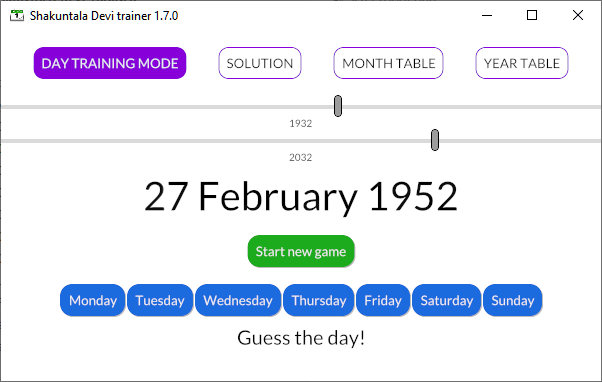 About
Shakuntala Devi's trainer is a brain training tool available as a GUI, a text console version and also an experimental online version thank to the cross platform GUI library Iced.
shakuntala-devi-trainer is an EDLA project.
The purpose of edla.org is to promote the state of the art in various domains.
Usage
The goal is to determine the day of the week for a given date.
The technic used by Shakuntala Devi is describe in her book Figuring the Joy of Numbers.
You can see an overview in Tibee's video India's Human Computer or in this livejournal entry
To launch the GUI
cargo run

To launch the text console version
cargo run -- --cli

If you use the console version your answer should be encoded as an integer like described in the book like so :
Sunday 0
Monday 1
Tuesday 2
Wednesday 3
Thursday 4
Friday 5
Saturday 6
If your answer is wrong only the text console version will give you a hint for now.
Each hint is the result of a step of Shakuntala Devi's algorithm.
You can adjust the range of the random date with two handy sliders.
Web version
You can try the experimental online version shakuntala-devi-trainer or built it yourself :
rustup target add wasm32-unknown-unknown
cargo install --version 0.2.69 wasm-bindgen-cli
cargo build --target wasm32-unknown-unknown
wasm-bindgen target/wasm32-unknown-unknown/debug/shakuntala-devi-trainer.wasm --out-dir shakuntala-devi-trainer  --web

Developer Notes
Rust conveniently allow infinite lazy stream with iterator
num-traits is required for Weekday::from_u32
lazy_static is required to provide a singleton HashMap
License
© 2020-2021 Olivier ROLAND. Distributed under the GPLv3 License.
Dependencies
~12–18MB
~349K SLoC