| | |
| --- | --- |
| 0.1.3 | Sep 30, 2023 |
| 0.1.2 | Sep 16, 2023 |
| 0.1.1 | Sep 15, 2023 |
| 0.1.0 | Sep 15, 2023 |
moker
A Simple Mock REST Client for Everyone
Main Objective
Moker allows you to easily run a mock server using JSON or YAML files.
Features
Supports .json files
Supports headers (guard)
Supports all HTTP methods
Supports URL query parameters
Supports body parameters (guard)
LRU Cache
Configurable through the command line
Network logger
File watcher
Supports Swagger & Postman collection
Supports socket
Supports .yaml files
Distribution via binary
Distribution via Homebrew
Usage
Clone the repository
Use the cargo run command
To run the sample JSON files, use:
cargo run -- -s ./example/json -p 8000

Flags
-s: Path to look for config files. Default is the root of the project (".")
-p: Port to run the mock server on. Default is 8080
JSON Configuration for Route
"name": An optional name for this configuration, used for logging purposes.
"method": Defines the allowed HTTP method/s for this URL. If set, only requests with specified methods will be processed; others will receive a "method not implemented" response. Can be a list of methods (e.g., ["get", "post"]). Ignore if you want to allow any HTTP method.
"headers": Define a dictionary/map of headers. The response will be sent only if the request contains these headers.
Response Configuration
Within the JSON body, use the "response" parameter to specify the following values:
"headers": Define a dictionary/map of headers to be included in the HTTP response.
"status_code": Set the HTTP response code.
"body": Provide the JSON or raw string you want to be returned in the HTTP response.
"delay_ms": Add a delay to the response in milliseconds.
Workflow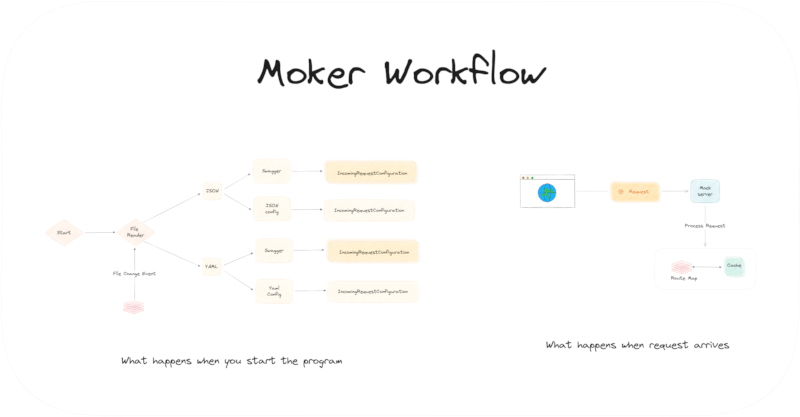 Dependencies
~20–33MB
~591K SLoC