| | |
| --- | --- |
| 0.2.0 | Jul 12, 2023 |
| 0.1.4 | Apr 21, 2023 |
| 0.1.1 | Mar 16, 2023 |
Jogger 🏃🏼‍♀️
An nCurses based application for logging time to Jira tickets. Because time logging has far too much friction and I get in far too much trouble for not doing it.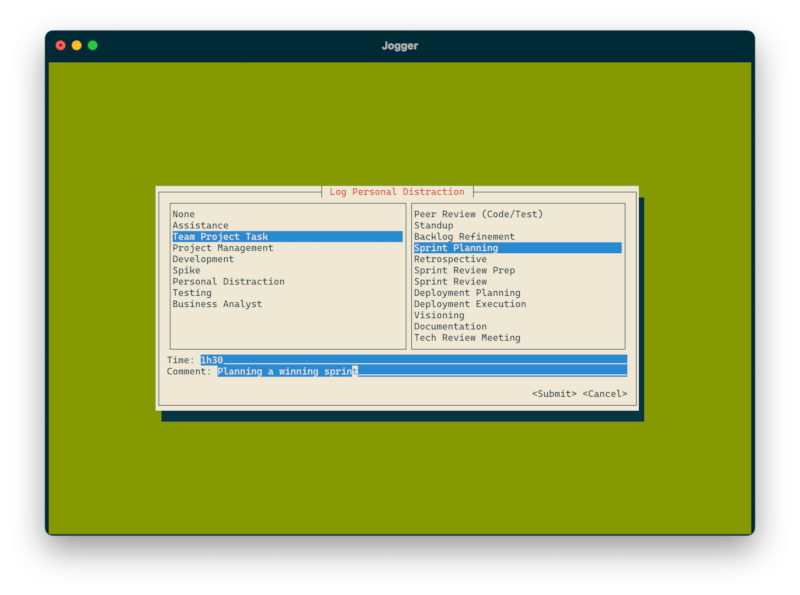 Installation
This package relies on ncurses and therefore probably only works on Windows under WSL.
Ubuntu/Debian:
sudo apt install -y build-essential pkg-config libssl-dev libncurses5-dev libncursesw5-dev
cargo install jogger

First Time Setup
The first time you use this app you will be requred to set four parameters.
Your Name (Optional)
Your personal distraction ticket

Not every organisation uses this, ignore it if it doesn't apply to you

Your Personal Access Token from Jira

This can be found in Profile > Personal Access Token

Jira URL

This is the base URL you use when visiting JIRA
ie. https://jira.company.com/
Once saved, these parameters will be stored for future usage.
Roadmap
Being able to customise the Category and Actions presented on the logging screen
Being able to set a custom date
Remove Category and Action from the logging screen
Make it look less like ****
Distributed binaries
🖤
Dependencies
~9–23MB
~378K SLoC